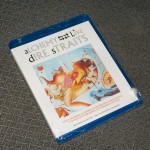 I used to watch this VHS all the time. My life probably wouldn't be the same without Dire Straits, my favorite band of all time, so when it was announced that Alchemy would be remastered for a Blu-Ray release, I was psyched.
Just as a CD, Alchemy is fantastic. The audio quality is a bit lackluster, be it from the recording or the production of the CD, I don't know, but the performance is top notch. The extended performances of Tunnel of Love and Sultans of Swing (6:15 and 5:07 longer than their album versions, respectively) are still amazing after listening to them countless times throughout my life, and the opening on Once Upon a Time in the West just sucks you in.
So, today, I ordered the Blu-Ray. A little word of warning for those in the U.S. of A.: don't buy it from a mainstream U.S. store. There are sellers on the Amazon Marketplace that have it for roughly $20 instead of the $30 everyone else is asking, which, from what I hear, is because Warner Bros. is simply importing the regionless UK version into the United States instead of pressing their own, which jacks the price up for some reason.
I'm hoping to have my copy in-hand before I head out for Las Vegas and the west coast on July 4 so I can report back on it.