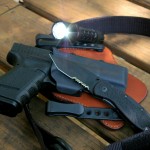 I received the much-awaited Comp-Tac MTAC holster in the mail yesterday. As I spent the evening at my weekly writers group, I wasn't able to test it with the gun in it until much later, but I wore the holster all night, partly because I'm weird and partly because I just didn't feel like taking it off in the Zaxby's parking lot. This isn't a good test of the holster's comfort, but it was never uncomfortable, so take that for what it's worth.
My main gripe with my old holster was that when sitting down, the gun jabbed into my side. I thought it was the rear of the slide, and the MTAC's leather backing covers the back end of the slide – perfect, I thought. Then I got home, slipped the Glock into the holster, and sat down, only to be disappointed to find it rammed right into my ribs. It was the grip all along, and the Minotaur holster doesn't really do anything to stop that. I toyed with positioning and adjusting the cant for some time, and while it did get a bit better, it's still very, very noticeable while sitting.
Keep in mind that I'm 6 feet tall and weigh roughly 135 pounds. I have NO meat on my ribs, so what I'm thinking is actually that my body shape pretty much makes it impossible to overcome my problem. I have a sort of dip between my hip bone and my rib cage (not quite as gross as it sounds – I don't look anorexic, I'm just unusually thin) that any holster naturally wants to pull itself into.
I could reduce the holster to a more neutral cant, but this would cause the butt of the Glock to print, or if I moved the holster farther forward (3:00 position) the rear of the slide will start to poke out my shirt, so I'm at an impasse right now. On the bright side, I've found the position that, when standing, hides the gun perfectly and is very comfortable. It's only sitting that I have a problem with, but I'll keep fiddling with it and update if I come up with anything better.